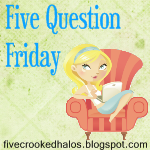 1. What
Christmas song do you loathe?
I hate all Christmas music...I am what you would call a scrooge.
2.
Do you and your significant other cuddle at night or sleep on opposite sides of the bed?
No he lays far away from me all the time..
3.
Have you ever had surgery?
4.
When do you typically have your holiday shopping done?
We are starting our shopping the 1st
5. If money were not an issue (and you HAD to pick something), what would your ultimate luxury item be?
VW Beetle convertible in every color.